College Students Bring Shakespeare to Jacksonville and Ponte Vedra Communities
JACKSONVILLE, Fla., October 29, 2019--The University of North Florida's Visiting Instructor Maureen McCluskey is bringing Shakespeare into the 20th century. McCluskey, along with 30 UNF students and Jacksonville community members, is putting on a modern retelling of Shakespeare's classic A Midsummer Night's Dream this November. 
There will be two performances of A Midsummer Night's Dream in Nocatee for their monthly marketplace. This month, the marketplace is titled "Shakespeare at the Market" and the performances will headline the event.
This family-friendly event is putting on three shows, two of which will be on Nov. 16 at the Nocatee Station Field in Ponte Vedra at 10:30 a.m. and 12:30 p.m. The third and final fall show will be on Tuesday, Nov. 19 at the University of North Florida Thomas G. Carpenter Library at 7:30 p.m. Additional shows will be held in the spring, those dates will be announced later this year.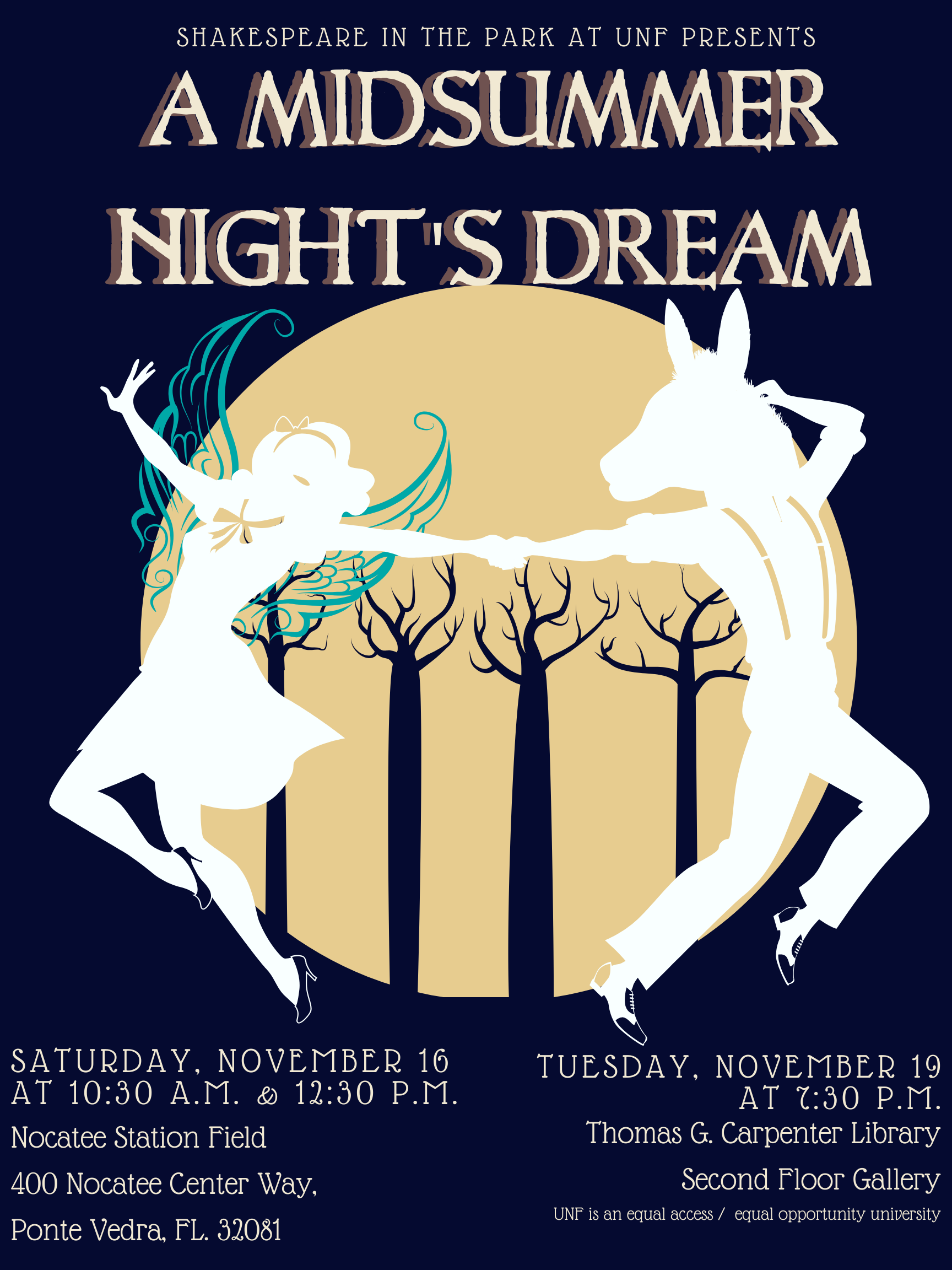 Announcing Nocatee's Shakespeare in the Park!
Directed by UNF Professor Maureen McCluskey, Nocatee's Shakespeare in the Park will be putting on a two-show, one day performance on Shakespeare's A Midsummer Night's Dream.
Auditions for A Midsummer Night's Dream opens TODAY (07/24) and will CLOSE August 13th. Those wishing to audition should submit a 45-second video of them performing a monologue from A Midsummer Night's Dream (can be on book) along with a completed audition form. Submit your audition form and video to Shakespeareunf@gmail.com.
The performance will take place in Nocatee, Ponte Vedra on Saturday, November 16th at 11 a.m. and 12:30 a.m.
Additional performances of Shakespeare in the Park will also take place on campus at the University of North Florida in late March of 2020.
#NocateeShakes